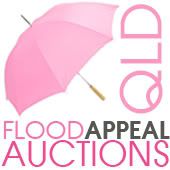 I'm having trouble writing this post and putting things into words, so I'll just direct you to
make it perfect
, who is doing an outstanding job of communicating about the floods. She is also coordinating online auctions for handmade items, with all proceeds going to flood relief. So head over for a look. The master auction list will be posted on Monday. Get in touch with her immediately if you'd like to host one yourself.
The Queensland Goverment has also put up
this site
with information about how to donate to the flood relief appeal.
Edit: I forgot to mention that I don't live anywhere near the flooding. However, I can't imagine that there is a single Australian (as well as many around the world) who doesn't know at least one family affected.